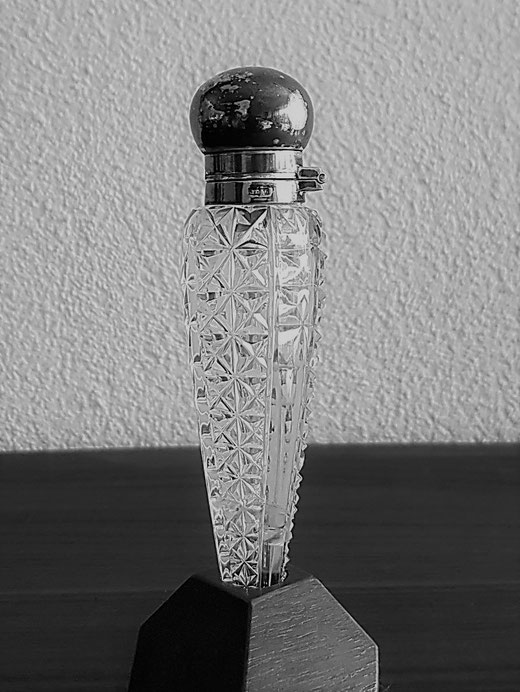 What I so love about vintage articles is that I find beauty in imperfections! This goes totally against the principles of modern times and normally, I must admit, I am not so forgivable.
Nowadays, everything we wish to buy needs to be perfect. Even daily things and fresh food. So, our apples for example, need to look polished like artificial apples made of wax. No dings or small asymmetric forms accepted. Vintage article make us re-think: Isn't the imperfection what makes vintage articles special, vivid, mystical and fascinating? To me it is alluring to imagine what, for instance, the flask of perfume in the picture has seen:  A Victorian woman putting her perfume on her neck, longing for her lover… Maybe, in a small mood of range the flacon slipped her hands and the perfume bottle cracked. Why her range? We will never know... 
There are so many things that make the vintage articles full of spirit and cover them with a mystical layer. The items have lived, they have often travelled far distances and were passed from one hand to the other. So I treasure imperfections in vintage articles as a characteristic to bear and appreciate. Imperfections make them interesting and memorable. They have had a life. But, they will also have a future life with the new owner. Again and again… eternal.
"To banish imperfection is to destroy expression, to check exertion, to paralyze vitality."
― John Ruskin, The Stones of Venice